Shifting Your Marketing Career from Agency to In-House
Madison Avenue ain't what it used to be. The former hub of advertising and the apex of business creative is now witnessing the crafty ads, buzz-worthy shareables, and earworms being developed from within. Once an agency driven industry, marketing and advertising has found its way into brand HQs. But it doesn't mean creative is dead.
Quite the contrary.
Ten years ago, it was almost unheard of. The go-to resource for go-to-market was in the hands of the agency – where the talented were amassed and the motivated were groomed. My how times have changed. Now, 65% of organizations have brought this expertise "in-house." Building teams fueled by top industry minds, some seasoned professionals have been wooed away from creative groups, while others recognize career advancement on their own within individual companies. Brands like Facebook, Google, and Apple have shaken up traditional agency life up by designing their own creative shops. And this movement isn't limited to tech giants. L'Oréal, Nestle, and Coca-Cola, to name a few, have gravitated to developing their own internal departments to facilitate a growing portion of their marketing output.
In-House Agencies a New Norm
As in-house agencies help to define the inner-workings of a brand, they're expanding upon the traditional advertising model and encompassing the breadth of marketing as we know it. Along with Account pros and Creatives, media buying experts are taking their place in these departments; social media mavens are now integral members of the team; analysts and number crunching reporting artists are all the rage; and the line between traditional marketing and digital is being erased as a bevy of talent converges for holistic strategies in these internal shops.
So how did we get here? While originally propelled by cost efficiencies, as of late, businesses have realized the strategic benefits that far outweigh budget. A sure sign that this trend will continue. For those in the marketing industry, this is significant as it represents a potential shift in how you may advance in your career.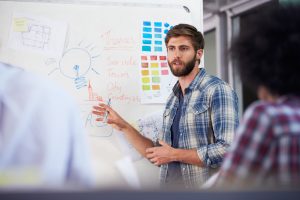 When You Find Yourself In-House
For seasoned pros at home in an agency environment, this fundamental shift may seem daunting – but the stigma of in-house is long gone. When you find yourself in the market for a new marketing management position or being seduced by one of these brand's creative departments, keep an open mind. And remember, it's not what it used to be. In fact, it may just surprise you.
Today's brands are taking the traditional agency model and placing them within the confines of their own organization…with a twist. That twist being the introduction of talent that spans all walks of marketing life. United under one roof with a shared goal to promote a single brand or family of brands, it doesn't make them any less creative, nor does it mean an endless repetition of tasks. In fact, it offers unique objectives that the motivated marketer would recognize as professional challenge worth the undertaking.
In-house agencies are fast paced, some say even more so than outsourced agencies because of easier access to decision makers, and a more in-depth understanding of the brand as a whole. This has actually led to more deliverables and greater expectations. And CEOs aren't the only ones taking notice of the success department teams have had. In-house agencies are winning creative awards across the board and gaining a reputation for some of the best marketing campaigns being developed for brands each year.
Making A Move
While there is an abundance of similarities, before you jump ship from your marketing firm for an in-house position, there are some considerations you should address. For instance, despite the variety of projects you'll no doubt take on, for those coming from boutique agencies the transition from multiple clients to a single brand may be jarring at first. Or, for those who have worked in a larger agency on a single account and a specific segment of marketing, ask yourself what your comfort level of immersion is into a tight knit group where pitching in is expected and you'll wear a lot of hats.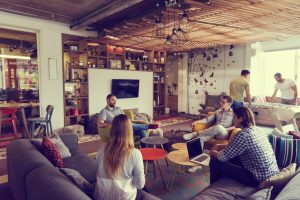 For those in the upper echelon of a marketing career, switching gears from agency to in-house may have more of an impact on initial success, though it could also end up the pinnacle of one's professional triumphs. MarketSearch executive recruiting can help you determine which avenue makes the most sense. We partner with marketing firms and in-house agencies to place top talent and leadership that drives some of today's most memorable and critically acclaimed campaigns.
Specializing in the placement of experienced marketing executives, MarketSearch has introduced a number of CMO's, Account and Brand Directors, Analysts, Strategists, and Managers to companies looking to fill positions within their departments and creative agencies. From consumer-packaged goods to B2B service providers, agencies and VC-funded startups, we place mid-senior level marketing professionals in teams across the US, for a more strategic approach to corporate communications.
Contact us to discover how MarketSearch's unique partnerships are helping to evolve today's innovative organizations. Call us directly at 617.971.0300 to learn more.