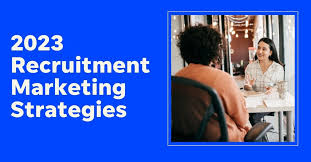 Marketing Recruiting Growth Plans for 2023.
As we head into 2023, the job market is showing signs of strong growth, and marketing recruiting is no exception. With the continued growth of digital marketing, the demand for skilled marketing professionals is expected to remain high. In this article, we'll take a closer look at the marketing recruiting outlook for 2023 and what companies can do to attract top talent.
Marketing Recruiting Outlook for 2023
According to the Bureau of Labor Statistics, the employment of marketing managers is projected to grow 10 percent from 2020 to 2030, faster than the average for all occupations. This growth is driven by the continued expansion of e-commerce and the increasing importance of digital marketing in the business world.
In addition, companies are placing a greater emphasis on customer experience and engagement, which requires skilled marketing professionals who can develop and implement effective strategies across multiple channels.
As a result, the demand for marketing professionals with specialized skills such as data analytics, social media management, and SEO is expected to remain high in 2023 and beyond. In particular, companies are looking for candidates who can demonstrate a strong understanding of digital marketing and have experience using the latest tools and technologies.
Hiring Strategies for 2023
With competition for top talent expected to remain fierce, companies need to take a proactive approach to marketing recruiting in 2023. Here are some strategies that can help:
Conclusion
In summary, the marketing recruiting outlook for 2023 is positive, with strong demand for skilled professionals expected to continue. To attract top talent, companies should focus on building a strong employer brand, offering professional development opportunities, leveraging social media, offering flexible work arrangements, and using data to drive hiring decisions. By taking a proactive approach to recruiting, companies can position themselves for success in the competitive marketing landscape of 2023 and beyond.
Best marketing recruiters, Executive Marketing Recruitment, Executive Search Firm, Hiring a Marketing Recruitment Firm