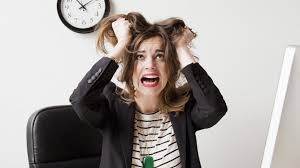 Employee burnout remains a major concern for employers
This is a great read from Sheryl Estrada that I'd love to share. I hear it every day, even more so now in 2021 with a no-end to the work day. People are tired and employers need to double down on retention & most importantly, understanding.
Dive Brief:
Although the challenge of employee burnout existed before the onset of the global coronavirus pandemic, employee wellness became a major concern for many employers in 2020. As the pandemic continues into 2021, employee burnout remains top of mind.
For example, some workplace health experts in the U.K. are anticipating a "burnout spike" in January following the disruption of regular holiday plans, according to a recent report by Distinctly. Google searches in the U.K. related to burnout are expected to be greater in January 2021, with search terms including "signs of burnout" having already increased by 24% throughout 2020, the search marketing agency found. As many companies moved remote in response to the pandemic, some employees in the U.S. have even experienced video call fatigue, according to a recent Robert Half survey.
"Recognizing burnout or excessive stress in employees is a vital part of the HR manager's work, and one which sadly often gets overlooked," Angela Knox, director of workplace employee wellbeing program Keep Fit Eat Fit, said in a statement. "If employers have systems in place that are designed for regular monitoring of each employee, then problems can be identified and dealt with before they escalate."
SPONSORED BY INSIGHTSDevelop great leaders and resilient teams
Insights solutions can help you build resilient teams that are agile, focused and productive. Discover the six critical ways you can increase the impact of leaders in your organization today. Learn More
Dive Insight:
Amid the coronavirus pandemic, workers most likely experienced burnout at some point, according to research.
Monster, a career platform, found in a July survey that the majority (69%) of remote employees said they have burnout symptoms, CNBC reported. It can also be difficult to ensure employees balance work to avoid burnout, Steve Beauchamp, CEO of Paylocity, an HR and payroll services provider, told HR Dive in a previous interview. "The biggest challenge is making sure people are taking time off," Beauchamp said. Paylocity implemented methods to support employees in a virtual environment such as online yoga classes, a free mental health mobile app and virtual groups so employees could connect.
About 76% of employees experience burnout on the job at least sometimes, a March Gallup report found. Although the risk of burnout increased "significantly" when employees exceeded 50 hours, how employees experienced their workload had "a stronger influence on burnout than hours worked," according to Gallup. Engaged employees with flexible work schedules often work more hours per week than the average worker, but have reported higher levels of wellbeing, the company found. If employees are supported and feel inspired, there is "significantly" less workplace stress affecting overall wellbeing, the report stated.
A University of Southern California Marshall School of Business report found that if management takes the time to express gratitude to employees, it can uplift morale and result in a better work environment. 
 
Sheryl Estrada has more than 10 years of experience in journalism. Sheryl has written for DiversityInc; ZORA, a Medium publication for women of color; HuffPost and Scripps Newspapers. She earned a bachelor's degree at Syracuse University and a master's degree at New York University. The native New Yorker spends her free time traveling, going to art shows, watching films and chasing sunsets.
Executive Marketing Recruitment, Executive Search Firm, Tips