Recruiting Trends for 2022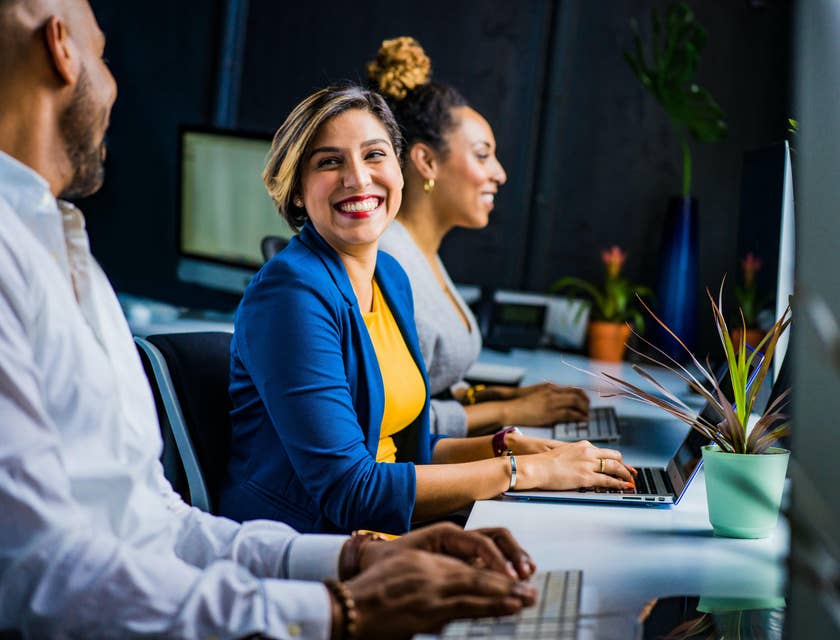 The recruitment process is changing. Finding and hiring great candidates, especially those with sought-after skills, has become a costly and time-consuming job.
In 2022, new and innovative recruiting trends will greatly impact this recruitment process. These trends will inspire new methods to attract, shortlist, and hire suitable candidates for jobs within various businesses and industries.
Top 2022 Recruiting Trends:
Collaborative hiring.
Including your entire team in the recruiting process could help you build a substantial pool of qualified candidates that are more productive and loyal to the business. This new trend has caught the attention of many businesses, resulting in an increase in referrals and employee referral programs.
Recruitment marketing.
This involves using common marketing practices in your recruiting process. With the help of effective marketing tactics, recruiters are able to find, attract and nurture talented candidates. Essentially, you will market the business or job position to the candidate, inspiring them to apply to your business's job openings.
Employer branding.
Before applying, job seekers are researching a business's reputation and brand. Therefore, employers are starting to see the importance of maintaining or improving their brand image. Just like with customers, future applicants will want to associate themselves with a business that is respected in their industry.
Transferable skills.
In certain industries, it's becoming increasingly hard to find skilled individuals. In response, recruiters have started to look beyond the limitations of their industry to find talented candidates. This has resulted in a shift from experience-based hiring to hiring based on transferable skills. Instead of looking for relevant previous work experience, recruiters will increasingly focus on transferable skills to help expand their talent pool.
Transferable skills include problem-solving, adaptability, communication, creativity, financial literacy, and more. These skills are often referred to as soft skills.
Artificial Intelligence (AI).
AI in recruitment will spread in 2022, changing the entire HR process. Offering a range of useful recruiting tools, including automated candidate sourcing, recovery, and matching, AI in recruitment continues to expand.
Learn more about how AI will change human resources.
Diversity hiring.
While diversity hiring is nothing new, it remains a popular and growing recruiting trend in 2022. Inclusion and diversity methods offer businesses many benefits including improved employee happiness, productivity, retention, loyalty, and employer branding.
Talent pools.
Building a talent pool database gives recruiters and HR Managers easy access to qualified and talented candidates. Talent pools don't only consist of candidates that have simply applied for jobs. They also include candidates that were sourced, referred, and joined your team through the inbound method.
An increasingly popular method for staying in touch with potential candidates and attracting top talent to fill vacant positions quickly is to maintain a talent network on your company's career site.
Learn how to build a talent pool with these five simple steps.
E-recruitment.
Also referred to as online recruitment, this trend refers to using the web, software and other technology to attract, assess and hire suitable candidates. As technology advances, the recruiting process will become simple and more efficient. The online recruitment method includes social media recruiting and the use of software, such as Applicant Tracking and HRIS.
Project-based hiring.
In 2022, there will be a shift from job description-based recruiting, to project-based recruiting – ultimately changing the way businesses operate and manage their projects. An advantage of this new trend is being able to gather talented individuals who are the best in their field for each project.
Data-driven recruiting.
With this trend, planning and decision-making are based on data obtained through HR technology such as ATS and recruitment marketing platforms. This helps reveal important insights on which parts of your hiring strategy work well, and which parts need improvement.
Work flexibility.
Many businesses operate with a diverse team that includes a combination of full-timers, contractors, freelancers, and interns. Because of the competitive labor market, more employers are offering creative benefits including flexible work schedules. This has helped to differentiate brands and create a more attractive workplace for potential candidates.
This is an appealing benefit for independent workers who like the fact that they can work anywhere they want, and whenever they want. Technology has been a huge enabler of this growing trend, helping to connect teams from all over the world.
Attract Gen-Z.
While generation-Z is currently filling internships and entry-level positions, it's important to look to the future and invest in this new generation. Generation-Z are slowly making their way into the workforce, with over 60 million young and talented job-seekers expected to enter the U.S. job market in the coming years.
What are the latest tech trends in recruitment?
Social media recruiting.
Mobile applications.
Blockchain.
Cloud storage.
Predictive analytics.
Big data.
CMO Executive Search, Executive Marketing Recruitment, Executive Search Firm, Hire a CMO, Hire a VP, Digital Marketing, Hiring a Marketing Recruitment Firm, How to Hire a CMO, Marketing Executive Search, marketing executive search firm, Top Marketing Executive Search Firm