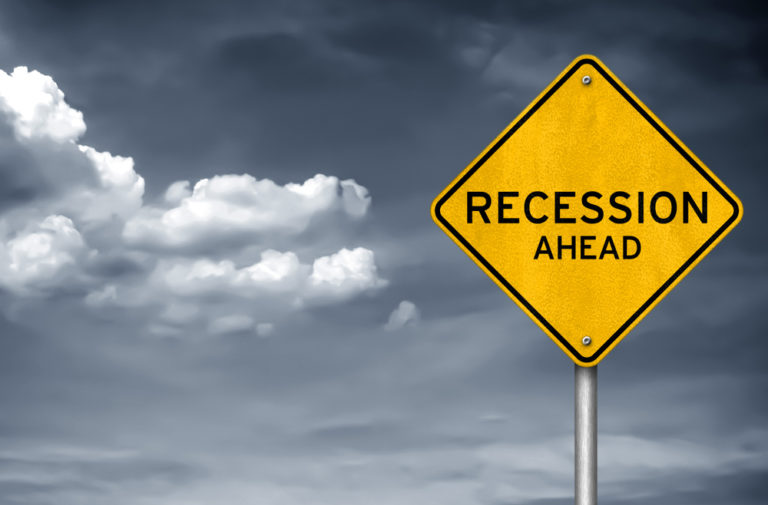 Recession 2021: Will the Candidate-Driven Market Finally End?
Recession 2021: Will the Candidate-Driven Market Finally End?
By Melissa Blazejak, Editor Aug 29, 2019 Recruiting, Talent
Earlier this month, economists nationwide began to spread rumors that the next recession could be a lot sooner than we think, with some even applying a tangible number: within the next 22 months.
Since math isn't my forte, I won't try to explain how economists came up with that number, but click that link to learn more.
So, are you starting to panic?
While there's no real cause for alarm just yet, it does make you stop and reflect on the Great Recession of 2008. As a recent college grad and a Millennial, finding a job during the recession was the most challenging experience I've ever faced, but right now we're at the other end of the spectrum.
As you're already aware, we're currently in a candidate-driven hiring market caused by a growing skills gap and an aging workforce. Finding talent is tough, but if there's a recession, does that mean this trend will finally end? If so, will there still be a high demand for skilled workers? And, will the sourcing and recruiting strategies of today still work tomorrow?
Workers are growing unsteady about getting laid off, just like it was in 2008, but could the next recession be different? While we don't have an answer to that, we do have some insight into how you should approach the next recession from a hiring standpoint.
Experts from various companies and industries across the United States are sharing their 2 cents about these potentially uncertain times.
The Creation of Jobs Is Slowing Down
Although the Bureau of Labor Statistics' (BLS) monthly job reports keep showing job growth, it recently revised down its estimate of total U.S. job creation by 501,000 over the March 2018 to March 2019 period, according to a recent Marketplace article.
With this new information, we're left wondering: What factors contribute to the decline in the creation of jobs? How are businesses operating differently?
"Job creation has slowed partially due to pending tariffs and legislation," says Will Eadie, Vice President of Strategic Alliances at WorkJam. "As businesses watch to see what happens next, they are being conservative with hiring. In the meantime, organizations are becoming savvier with their day-to-day operations. Organizations are adopting digital workplace technology to optimize their current frontline workers. New technology has enabled employers to unlock the benefits of cross-location labor sharing, real-time communication, and employee upskilling with on-demand training."
While job growth may actually be on the decline, employers are also left worrying about worsening trade tensions and the Dow dropping. This is causing many businesses to be stuck in limbo, waiting for change … any change. We asked Eadie how businesses can prepare for change—both good and bad.
"Preparing an entire business for change can be a daunting task for enterprise-sized organizations—especially for organizations with thousands of frontline nondesk workers," says Eadie. "A direct line of communication from the head office to frontline workers is imperative for organizations to react quickly to change. Mobile-first digital workplace technology is a key driver of this communication style because it is both targeted and efficient."
Eadie adds, "We see it a lot in the modern business climate—impending tariffs and legislation freeze decision making and when a final ruling is made, businesses need to spring into action. An agile workforce can react to strategy changes quickly."
"To stay competitive, no matter your industry, your workforce needs to be agile," he suggests. "Continual communication, on-demand resources, and real-time mobile training are no longer nice-to-haves[;] they are fundamental to protecting margins."
"Fortunately, technology has caught up to the demands of the workplace," Eadie says. "Digital workplace technology enables organizations to communicate with their workforce in an instant—targeting employees by role, geo-location, and a number of other identifiers."
Technology Helps Businesses Remain Agile
Eadie explains how certain industries could feel the effects of this slowdown and what business leaders in each industry must do to prepare.
Retail. "When retailers can no longer absorb the increased costs of goods, the price increase will be passed on to consumers," says Eadie. "Frontline retail associates need to be prepared to communicate context around price hikes to customers in a tactful manner. Mandatory training can be delivered via digital workplace platforms in real-time, ensuring the workforce is informed."
"By utilizing surveys and targeted communication with frontline workers, the head office can keep their eyes on customer sentiment, creating a real-time feedback loop," he adds. "Annual or bi-annual surveys are no longer appropriate methods of information collection—organizations [that] solely rely on these methods to gather feedback will get left behind."
Manufacturing. "Tariffs inevitably lead to supply chain and staffing changes. An informed frontline workforce is able to react to new procedures and schedules," says Eadie. "In a system built for efficiency, people need to be optimized via access to a digital workplace. Technology enables agile scheduling, real-time communication, experiential learning, and tailored recognition—all of this ensures the workforce is able to adapt and reinforces positive behaviors."
Distribution Centers. "Supply chains are experiencing disruption—consumer behaviors, legislation, tariffs, etc. In order to adapt to change, organizations need to develop agile workforces," suggests Eadie. "An agile workforce is a workforce empowered with self-service tools that give them the tools they need to do their jobs: cross-location scheduling, real-time communication, experiential learning, and access to secure documents."
As you prepare for the slowdown, keep in mind that the candidate-driven market may change, and therefore, your recruiting practices may change with it.
3 Tips for Recruiting Talent During a Recession
Claudia Johnson, Director of Internal Recruiting at Addison Group, shares her three tips for recruiting talent during a recession:
Tip #1: Exhaust your internal candidates first. "According to a Glassdoor survey, the average company in the United States spends about $4,000 to hire a new employee, taking up to 52 days to fill the position," she says. "Why not just save some money and time and invest in your current employees from the beginning?"
"Work with your HR department or the necessary people to establish strong onboarding and development programs that really focus on engaging and growing employees from the beginning," Johnson advises. "Then, when it comes time to fill a vacant role, promote the open position within the company before posting externally. This is also another way to show your employees that you're investing in their future, which helps increase retention and employee morale."
Tip #2: Don't just define your ideal candidate; define high-performance expectations. "In an economic downturn, job vacancies will be scarce, so it's only natural that you'll receive a high volume of applications," Johnson says. "This is great and all, but do you really want to invest your time in unsuitable candidates who send their résumé willy-nilly?"
"Take the time to really define the ideal candidate profile and requirements so you can attract the right candidates from the beginning," suggests Johnson. "You can also always take it a step further and define what it means to be a high performer[;] after all, they probably have some big shoes to fill!"
Tip #3: Understand that this isn't the worst thing to happen. "Sure, recessions are horrible and frustrating and cause more headaches than necessary, but don't let them get the best of you," she says. "Take a moment to put things into perspective and realize some of the advantages of recruiting during tough times."
"For instance, there's less competition for less well-known brands, more high-quality candidates will be available, turnover and retirement rates will decrease, and workforce planning will be encouraged," Johnson suggests.
4 Additional Tips for Adjusting Your Recruiting Strategy in a Slowdown
"During a recession, your workforce can be impacted in several ways: tightening budgets can cause hiring freezes, a squeeze in recruitment budgets and staff, a scaling back of benefits, and, as a worst case, layoffs," cautions Robin D. Richards, CEO and Cofounder of CareerArc. "If you continue to hire during a recession, be prepared for a surge in applications due to a labor market that has likely experienced an influx of jobseekers."
"Your recruitment strategy will have to adjust to respond to these types of impact. Invest in tools that can help qualify that influx of candidates, as well as technology that will automatically and properly notify the candidates you decline," says Richards. "Lastly, you will need to stand your ground on your values. Uphold your reputation and invest in benefits that matter most to those who need it, like outplacement services for laid-off employees to aid them in transition while helping you keep an open door if they return to the company when the economy swings back."
Richards explains how you should keep a few areas top of mind when recruiting during a recession.
Tip #1. Streamline the hiring process for a wave of candidates. "While there's no shortage of applicants in a recession, recruiters are faced with the problem of quantity over quality," Richards says. "To efficiently sort through all the noise of a large candidate pool, it's crucial to leverage the right HR tools and technology to do the heavy lifting."
"Look to affordable HR tech to automate and streamline your recruitment marketing efforts with enhanced candidate screening functionality to empower your hiring team to focus on only the top candidates," he adds.
"You also want to look for technology that can help set you apart when interacting with declined candidates, undoubtedly a much higher number with the increase of active applicants. Remember that these candidates are a vocal majority and can also impact your bottom line," says Richards.
He points to a recent CareerArc study that found that "64% of jobseekers say that a poor candidate experience would make them less likely to purchase goods and services from that employer. Seek out tech solutions that will not only automate notifications to declined candidates but can provide a meaningful candidate experience in time of need (for example, by providing alternative job options, professional networking tools, and résumé assistance). Doing so will leave a lasting impression long after the recession is over."
Tip #2. Be honest about job requirements and your ideal candidate fit. "During a downturn, individual workloads tend to increase[,] and some job requirements may have expanded. Considering the influx of candidates, this is the time to be very honest with what the role demands as well as what your company culture seeks in an ideal hire," says Richards.
"Having a clearly defined employer brand and promoting your most important values and benefits enables you to attract the best candidate fit from the start, which reduces time-to-hire, increases retention rates, and prevents additional costs of re-recruiting," he adds. "Being specific about must-have specific job requirements will also weed out unsuitable candidates as early and cheaply as possible."
Tip #3. Provide outplacement services for a long-term hiring strategy. "During tough economic times, the worst[-]case scenario is having to conduct layoffs. While that decision may be unavoidable, remember that your workforce is watching, and they may also be your customers," Richards says. "Our 2017 study found that 65% of adults say they would be less likely to purchase goods and services from a company that had laid them off."
"Invest in your employees as much as you can, even in a layoff, by offering outplacement services that can help them land their next job quickly. Extending outplacement services to help them get back on their feet will demonstrate empathy and best position them for their transition," suggests Richards. "You may want to hire these individuals again (or someone in their network) sometime in the future when the economy bounces back, so you don't want to burn any bridges. Providing outplacement services builds a pool of potential candidates for the future as well as keeps your employer brand safe."
"To attract the best talent during a recession, stability and consistency are key. Offering outplacement services as part of the standard benefits package will provide another layer of security for [jobseekers] who may be hesitant to make a move or sign on," he adds.
Tip #4. Stick to your core values, and keep your employer brand promise. "It's last on this list, but it is perhaps the most important and underlies all that you do. The true weight of a company's brand and reputation is tested during a recession," says Richards. "You may have to make tough decisions, including cuts to benefits and wellness programs. But, with nearly half of employed Americans (48%) currently suffering from layoff anxiety, be mindful of the changes you make as a reduction in force only increases the anxiety of those remaining."
"If possible, keep the wellness benefits that extend your brand promise that you will stick by even through tough times. These benefits can also help you stand out and attract the right[-]fit candidates in this new labor economy," says Richards. "Your commitment to your workforce can help demonstrate your trustworthiness as an employer and build brand credit for the future when you once again must compete for talent."
A recession may be inevitable, but by using the tips outlined above, you'll be able to come out strong by keeping your brand intact and providing a great candidate experience, no matter how difficult the hiring landscape may become for jobseekers looking for employment during a recession.