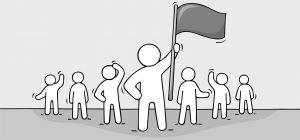 Qualities Companies & Brands Look for In Marketing Leadership
It's not enough to have years of experience under your belt anymore. To earn a reputation as a Marketing Director or Manager worthy of the title, you need specific marketing leadership qualities and character traits that inevitably shape the way you succeed at your job.
Today's marketing firms and departments are comprised of talent in various roles and responsibilities. And though these tasks can be worlds apart, it's a specific "type" of person that thrives in this fast-paced and evolving environment. Before you consider taking on the challenge of leadership in this industry, understand that certain marketing leadership qualities are not "preferred" by companies, but rather required.
Top Marketing Leadership Qualities All Marketers in Every Position Must Possess
Agile

You're juggling multiple programs and tactics, all of which are being measured for effectiveness. You start down one path and your results take you down another. Par for the course in marketing. Strategic planning is subject to change based on metrics and the unexpected new business objectives that frequently arise. Flexibility and quick thinking are a must in these situations.

Creative

Today's measured marketing tactics are tried and true – but remember, someone had to try them first. Even the most analytical of positions require some semblance of unconventional, out-of-the-box thinking in this industry. While some may be accustomed to pushing the envelope, others may be pushed out of their comfort zone. Point is, don't be afraid to take chances.

Strategic

You'd think this one would be obvious, but you'd be surprised at how many seasoned pros actually zero in on an awesome idea but don't consider the long-term play. Marketers are innately innovative. Goes without saying because if you're not forward-thinking you may as well be taking a step back. That said, however, latching on to what seems like an epiphany without considering how it will impact the holistic marketing plan may simply make your tactic a one-hit-wonder and a waste of time and money.

Assertive

Be prepared to go to bat for your ideas (and your people' ideas.) The thing about marketing is, not everyone gets it. Your methodologies and tactics will be tested, and not just by analytics but by the powers that be. They will make you question great concepts and justify potential programs. This is where your expertise comes into play. Where you stand your ground. Where you define yourself as an industry leader that has earned a title not by going with the flow, but rather by believing in your talent and going with your gut.
MarketSearch is a nationally networked executive search firm specializing in marketing communications. Our executive recruiters are marketing professionals with the expertise and insight to assess candidates and narrow a short list of ideal potential hires to clients with the right marketing leadership qualities.
We offer both on-site and remote job opportunities for those looking for positions in marketing, direct marketing, account management, e-commerce, analytics, marketing automation, social media, and more.
Contact us to discover why more marketing experts trust MarketSearch and how our partnerships are helping to evolve leadership teams in today's innovative organizations. Call us directly at 617.971.0300 to learn more.