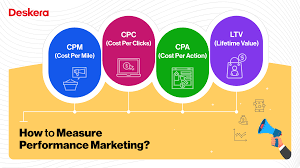 Performance Marketers have been one of our most sought-after executive searches this year
In today's highly competitive business landscape, where every dollar counts, Performance Marketers have become pivotal to driving revenue growth and delivering measurable results. Their ability to connect data-driven insights with strategic optimization tactics is instrumental in maximizing the return on investment for marketing campaigns.
By harnessing the power of data measurement and analysis, these remarkable professionals have the unique capability to unlock hidden opportunities, fine-tune marketing strategies, and make well-informed decisions that drive impactful outcomes. They are the masterminds behind the scenes, transforming complex data into actionable insights that fuel business growth.
Moreover, Performance Marketers possess a keen understanding of the ever-evolving digital ecosystem. They skillfully navigate the vast array of channels, platforms, and tools available, leveraging their expertise to identify the most effective avenues for reaching target audiences. Their relentless pursuit of innovation keeps them on the cutting edge, ensuring that marketing efforts are tailored to capitalize on emerging trends and consumer behavior.
As we embark on this journey of connecting exceptional talent with forward-thinking organizations, we are reminded of the immense value that Performance Marketers bring to the table. Their expertise and strategic mindset align perfectly with our mission to empower businesses to thrive in the digital age.
If you are a Performance Marketer seeking new opportunities or an organization in need of top-tier talent to drive your marketing efforts to new heights, I invite you to connect with us. Together, let's unlock the full potential of performance marketing and revolutionize the way businesses grow and succeed!
Best eCommerce recruiters, Best marketing recruiters, CMO executive search firm, Executive Marketing Recruitment