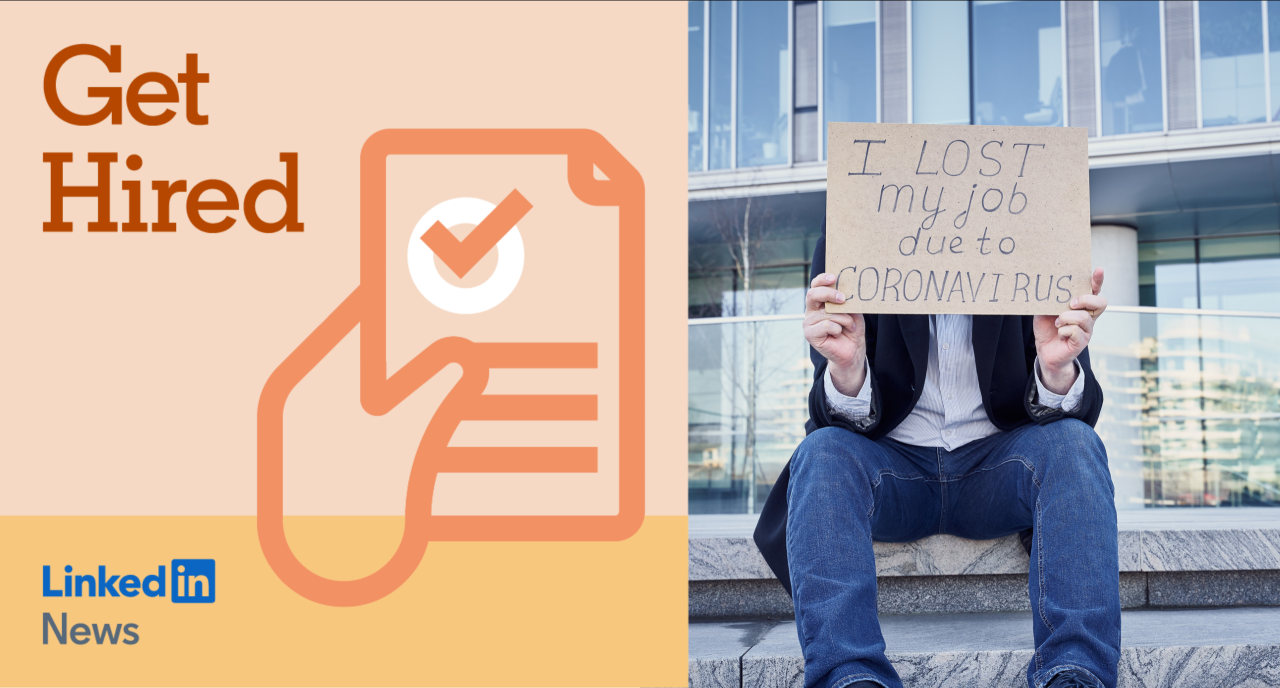 Job seekers are acting like the pandemic never happened. Here's why that's a problem.
Thank you to Andrew Seaman for the great, valuable insights.
(This is a special edition of #GetHired. We'll return to our regular publishing schedule on Monday, November 9.)
The world has changed in so many ways since the coronavirus began shaking the foundations of people's lives in early 2020, but new data suggest the actions and perceptions of many job seekers have failed to keep up with these developments.
The fear is that these disconnects could lead some job seekers to take a longer and more difficult road back to work when they have little time to spare.
A LinkedIn survey of 2,000 U.S. adults between the ages of 18 and 74 who became unemployed between mid-March and mid-October found that most respondents are feeling lonely, they miss getting a paycheck, their situation may be putting a strain on their relationships and many are stressed and worried.
Fear of stigma
One of the biggest disconnects between the reality of getting hired and the perception of job seekers is centered on the stigma tied to unemployment.
Of those surveyed, 84% believe there is a stigma associated with being out of work and roughly two-thirds (67%) believe that stigma is affecting their ability to find a new job. However, another LinkedIn survey of 1,000 hiring managers found that 96% would hire a candidate who was laid off due to the COVID-19 pandemic.
"As you would assume, I am seeing much less of a negative stigma from hiring managers if someone has been out of work for a few months," wrote Derek Watson, who works as a recruiter. "It has gone from something that would get most managers' attention to something that is almost totally accepted as a given."
Some job seekers are getting the message as they work their way through the hiring process, though. "One recruiter I spoke with noted that 'everyone gets a pass this year' for looking for work while unemployed," wrote Eva Braiman, who said she was laid off after a 14-year career in the luxury travel industry.
For those job seekers who haven't received the message that the perceptions of potential employers have changed, their worries about this perceived stigma are real and may influence how they're searching for work.
Nearly half (46%) of survey respondents said they have lied about being out of work. More than half (51%) said they have avoided a social event because of the way they feel about being out of work. When asked about how they feel about talking about being unemployed, 24% said they felt embarrassed, 23% felt uneasy and 15% felt ashamed.
The various negative feelings weighing on job seekers may be keeping them from engaging in some of the most effective strategies for finding work, specifically networking.
People are networking — a little
Less than half of survey respondents (42%) say they've reached out to existing connections and only 39% say they've asked people in their networks, such as friends and former colleagues, for introductions to other people. Only about a third (35%) have been making their own introductions to new connections.
The lackluster attempts at networking are surprising since the data suggest these job seekers know the power of personal connections. Nearly three-quarters (73%) of survey respondents say they had been hired at some point as a result of someone they know making an introduction or a connection. Additionally, 82% of respondents said networking is vitally important for finding a new job.
"I absolutely had to open up my idea of networking and allowing myself to be vulnerable," wrote Davita Nobles, who has worked as a sales manager. "I tend to be pretty quiet about things job related except for with close friends. I put the banner on my LinkedIn profile 'Open to Work' and had so many folks that were 2nd degree connections reach out to me. I was floored… After four months or very focused methodology related to finding a job… I start my new position on November 2."
Only half of the survey respondents say they've even posted on social media about being unemployed or looking for a job. Those who haven't said they don't feel comfortable sharing publicly that they're out of work, some felt too ashamed or embarrassed and some said they didn't think it would be helpful.
While some experts say posting online about being unemployed doesn't help a person's odds of finding work, 48% of hiring managers said they view public posts about a job search as conveying resourcefulness. Between 30% to 40% of hiring managers also said it conveys proactive problem solving and confidence.
People are hopeful
Despite the challenges presented by the disconnect between the approach job seekers are taking during the pandemic and how potential employers are navigating the hiring process, people appear optimistic about the future.
"The road to looking for a new job has not been easy; I've applied to countless jobs just to get no response back," wrote Emilie Tangsavath, who has worked in digital marketing. "The interviews I have gotten led to rejections or again companies not responding back. However, I am still hopeful that I will land a job and just remind myself that my time will come."
The latest data from the LinkedIn Workforce Confidence Index shows there is growing confidence among job seekers. Specifically, they're more confident than they were in April that they'll be able to find work and get their finances in order. LinkedIn's Workforce Confidence Index is based on a quantitative online survey that is distributed to members via email every two weeks, asking professionals how they feel about their job security (or ability to land a new job), financial wellbeing and career outlooks. George Anders, my colleague, has a report on the full results here.
While confidence among employed job seekers is higher than their unemployed counterparts, confidence in finding or keeping work among all job seekers was +19 in mid-October on a scale from -100 to +100, compared to +10 in April. Confidence among all job seekers regarding their finances was +17 in mid-October, compared to +11 in mid-April.
"You need to be hopeful when speaking to recruiters and not negative regarding the pandemic as it may eliminate you as a candidate," wrote Alexander Valen, who has worked as a project manager. "We are in it together. Focus on what is marketable and something you would be passionate about and learn that skill and seek out those positions."
How have you changed your job search due to the coronavirus pandemic? Join the conversation.
▶ The follow-up
Job seekers often fear that pushing too hard during the hiring process will cost them opportunities. While that may be true, one expert said in the last edition of #GetHired that there are ways to be an effective self-advocate while job searching. Heather Hansen, who is a coach and the author of The Elegant Warrior, suggests that job seekers do the work to believe in themselves. They should use evidence to make others believe in them. Job seekers shouldn't be afraid to ask compelling and curious questions of potential employers — especially when following up with them. Also, it's important to navigate the job search from the potential employer's perspective. Find what people are saying about the strategy by clicking here.
▶ Other news to help you #GetHired:
How do you navigate uncertainty? The coronavirus pandemic has upended so many aspects of everyday life — and continues to do so. Carbon CEO Ellen Kullman knows a thing or two about finding your footing during difficult times. She took the helm of DuPont as the 2008 financial crisis began. She told my colleague Jessi Hempel, who hosts the Hello Monday podcast, that it's important to focus on what you can control. Also, leadership during uncertainty requires self-awareness and the free exchange of ideas. Here's what people are saying about Kullam's advice.
The future of work is… unknown. People are struggling to envision what the future of work will look like after the pandemic wanes, but no one is certain. CEOs and other business leaders have publicly said they see a role for the office in the future. Yet, there are also benefits for companies that opt for a remote workforce. They may be able to find top talent outside their geographic area, for example. Also, they may be able to cut expenses since there may not be need for pricey real estate. BBC Worklife offers some insights into the matter. Here's what people are predicting about the future.
Here's who's hiring right now. As I've said before, we're doing our best to connect you with companies that are still hiring during these troubled economic times. Part of that effort is a regularly updated list of companies we know to be hiring. Some of those include Amazon, Walmart and CVS Health. Click here to see more.
▶ Up next:
Since this is a special edition of #GetHired, the next edition will be ready for you on Monday, November 9! We'll be discussing why you should have a brand on social media and how you can build one to land the job you want. Have you been working to build a brand for yourself online? Why or why not? If you have been working on a brand, what have you been focusing on? Tell me your answers by clicking here.
Thanks for reading! Feel free to reach out to me if you have ideas on topics or questions I should address in future editions of #GetHired. You can also email me at GetHired[at]LinkedIn.com.