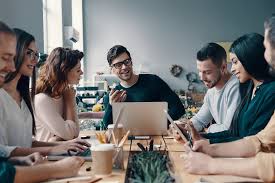 Top Marketing Candidates for Executive Search
Navigating Your Career Path: 5 Steps on How to Map It Out
"What do you want to do for the rest of your life?" A tough question isn't it!
Very few of us are sure of what career path is going to work best for us. The journey of a lifetime must start with a clue about where you are heading.
Irrespective of whether you see yourself as an Executive Director, a Social Media Expert, or someone who makes a foodie's dream-come-true pasta, you must cling to that dream and feed it.
This 5-step guide will help you identify and navigate your career path and enable you to embark on this adventurous journey towards accomplishment.
Step 1: Know Your Present State of Affairs
To start carving your professional course you must first review your current situation and what you wish to change. Maybe you have just finished your university studies. You surely do not intend to pursue further education, but also do not know how to put your education to use.
Step 2: Evaluate your Strengths and Shortcomings
Concentrate on what you are good at! You must be familiar with your strengths and weaknesses. Cash in on your strengths and overcome your weaknesses. Being practical helps you focus on opportunities that are most appropriate for you, giving you a clear view of your interests and objectives.
You are the best person to analyze yourself and your situation so that you can draw a roadmap. It is also a brilliant idea to make a list of all that you want and don't want from your future job and profession.
Step 3: Understand your Field Well Before Applying For Vacancies
Enjoying doing something and making it a profession are two different things. You must examine your career choices in detail, inspect different job descriptions, and determine the different requirements for each position. This will keep you well informed of what the future holds.
This way your decisions will not be based on romanticizing the career field you want to start working in. Dan Ariely'sTEDx video is highly inspirational on this. He talks about what motivates us to work and gives us reasons to consistently progress and feel a sense of purpose.
Step 4: Probe and Rehearse Your Interests
Get ready – finding a job that you are thrilled about takes time. Mentoring Millennialsexplains this beautifully. Mentoring is the best release for your apprehensions. Practice is a great teacher and hones your skills while seeking that first job.
Mentorly is one wonderful way to reach out to more than 450 skilled, global mentors. They can provide priceless evaluations, career wisdom, and advice on developments and possibilities in your domain of expertise; advice that is cut out for your needs. This helps sharpen your interview skills so that you highlight your positives and be unique.
Glassdoor and LinkedIn are excellent tools that can help you stay updated about the latest openings with the help of services such as daily notifications on new vacancies.
Step 5: Consistent Practice Undeterred by Failures
Your career path is an ongoing journey – not a one-day achievement. You may be seeking your dream job or switching from an existing one, practice is the game-changer. Podcasts are a superb means of motivation. Not being able to make it happen the first time is perfectly normal, provided you retain the motivation and will to keep moving forward.
Focusing on building your career requires your time and undivided attention, which can be a bit difficult at times. However, one must be prepared well in advance. Remember, your future self deserves your present best.
Executive Marketing Recruitment, Executive Search Firm, Hiring a Marketing Recruitment Firm, How to Hire a CMO, Marketing Executive Search