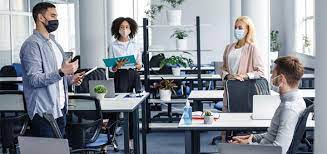 Delta variant has many companies rethinking the return to work –
By Ty West  –  Senior Editor, The Business Journals
In many ways, Dr. Beth Frye has been planning her company's return to the office since March 2020.
She's been closely tracking Covid-19 case data, vaccination rates and federal guidance. She's been communicating that information to her staff and using it for return planning for months.
Frye, chief of operations and physician executive consultant for WittKieffer, a Chicago-based global executive recruitment firm, has a unique perspective on the pandemic. She's an internist by training who spent 20 years in academic medicine and also served as senior director of ambulatory services for Loyola University Health Systems. She knows the pandemic is a battle that's not going away in the near future. But it is evolving.
"It just keeps changing," Frye said.
Like many businesses, WittKieffer is targeting a return date of Sept. 7 — after the Labor Day holiday and the start of school for most students. But the evolving Covid-19 situation may tweak those plans.
Frye said the company has taken a methodical, scientific approach throughout the pandemic. Similarly, she said the science will ultimately dictate how the company's reopening plans evolve in light of the recent surge in cases due to the Covid-19 Delta variant.
The variant led the Centers for Disease Control and Prevention to revise its recommendations for the fully vaccinated in high-risk areas and is prompting more vaccine mandates.
It's also led several prominent companies, including AppleInc. and Google LLC to pump the brakes on their reopening plans. https://d0d272fe6a7efa61f30d37dfa88d1475.safeframe.googlesyndication.com/safeframe/1-0-38/html/container.html
RECOMMENDED
RESIDENTIAL REAL ESTATECEO of South Jersey-based Auto Lenders buys $25M Florida mansion with hockey rink (Photos)RETAILINGDowntown jeweler transforms bank vault into new shopping experience: PHOTOSCAREER & WORKPLACEWhat you missed at the 2021 40 Under 40 Awards (Photos)https://d0d272fe6a7efa61f30d37dfa88d1475.safeframe.googlesyndication.com/safeframe/1-0-38/html/container.html
Given the trajectory of cases and low vaccination rates in several parts of the country, experts say they wouldn't be surprised to see more businesses rethink their return-to-work plans — especially those planning a return after Labor Day.
Frye said WittKieffer ramped up its return planning after the vaccines came out. It assessed employee feedback and tried to cover its bases about what needed to be in place at all its locations to reopen.
Like many companies, WittKieffer has allowed employees who wanted to return a chance to come back ahead of the planned opening in September. But, with the rise of the Delta variant, the company's safety precautions for its offices continue to evolve.
Frye said one of the pillars of the company's strategy has been to adapt to the rapidly changing circumstances. For a company like WittKieffer, which has a presence in 28 U.S. cities and three additional countries, that could mean different policies for different places.
"In Chicago, we are currently not in a substantial or high-risk area [as defined by the CDC]," Frye said. "So vaccinated people there don't have to wear masks. I think that will change in a week or two. I think we'll hit substantial or high-risk. You will have to treat your employees differently based on their risk and the risk of the virus in the community."
The company is also requiring workers to show their vaccination status, and unvaccinated people aren't allowed in the office. https://d0d272fe6a7efa61f30d37dfa88d1475.safeframe.googlesyndication.com/safeframe/1-0-38/html/container.html
Aimee Delaney, a partner at law firm Hinshaw & Culbertson LLP, said the Delta variant isn't the first variant and won't be the last, which reinforces the fact that employers will need to continue monitoring the virus in the months to come.
She said the Delta variant offered a "gut check" for many businesses at the same time many were planning to call workers back to the office.
Experts said the CDC and Occupational Safety and Health Administration have avoided offering recommendations on whether companies should or shouldn't reopen offices — although some states and localities have weighed in on those matters at points during the pandemic.
Josh Davis, a director at law firm Goulston & Storrs PC, said more companies appear to be weighing whether they need to pump the brakes on their returns. He said the answer often depends on where the company is located.
"Most folks in the Northeast, for better or worse, are feeling pretty safe because the vaccination rates are so high," Davis said. "We see less from Northeastern employers along those lines."
Davis said he is also seeing more interest in employers who want to find ways to make vaccine requirements work.
Experts say providing information and education about Covid-19 is key to efforts to increase vaccination rates for employers. That's one thing Frye has tried to do since the start of the pandemic.
When Frye noticed Delta variant cases were rising, she shared information about the science of the situation with a strong call to be vaccinated. https://d0d272fe6a7efa61f30d37dfa88d1475.safeframe.googlesyndication.com/safeframe/1-0-38/html/container.html
From her standpoint, Frye said the key has been trying to ensure employees know their safety is what is driving the decisions.
"If you put your employees first, they know that. They hear it," Frye said. "They know that what you're trying to do is for them more than for the business."