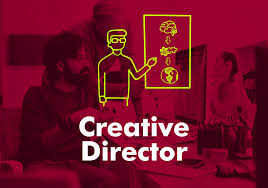 Creative Director, Client side – ART
Overview
Our client is in the process of modernizing their marketing and creative capabilities and this newly Creative Directorsearch will be a hands-on, Team and Creative leader. Highly passionate about marketing and can marry consumer & B2B creative solutions.
Relocation assistance provided for the right candidate.
We are looking for a creative leader to join them on that journey. If you appreciate the challenge of building teams and capabilities, this is a unique opportunity.
We are looking for an experienced Creative Director who is a problem solver, strong player coach with a passion for great design.
This role reports directly to the Chief Marketing Officer. The CD serves as leader for the internal creative team of 10 and provide day-to-day direction and guidance. This person is an innovative, creative leader who shares, and encourages the team to think beyond the expected.
The Creative Director is a proven, collaborative leader, who will provide creative strategy and execution leadership for multiple brands that live within the clients consumer umbrella, both B2B and B2C. This leader will bring a well-rounded background and provide guidance for digital and web content, copy, print, video, audio.
They will partner with channel and campaign marketers to come up with bold campaigns designed to delight and engage audiences while delivering on the program objectives.
This person will serve as leader to ensure creative team members work together like a well-oiled machine, consistently cranking out genius deliverables, meeting deadlines and staying within budget. The Creative Director is responsible for the overall quality of work produced by the creative team.
ABOUT YOU:
Will be experienced in external or internal agency work, especially experienced in establishing operational processes to ensure smooth production schedules.
Must be unfazed by building from scratch. We need a builder, not a caretaker
Work at a rapid pace against tight deadlines
Is a strong presenter who can inspire stakeholders inside/outside of marketing with great creative.
Ability to team build, especially in this remote work period of time
Shows a unique blend of direct communication skills while also being easy to work with. Big egos are not a good fit in our work family.
Has a keen sense of humor to make the journey a lot easier
DAY-TO-DAY's:
Create and implement tailored creative plans based on omni-channel marketing approach
Direct brainstorming meetings and creative sessions
Manage the creative process from concept to completion
Shape brand standards and create procedures to ensure all brand representation is consistent.
Supervise the creative daily workflow, assess project workload, and monitor deadlines and budgets. Establish a DAM system for enhanced workflow.
Develop exceptional and well-executed creative campaigns that meet customer and company expectations.
Be the creative visionary of the company from a visual and voice standpoint by working directly with VP of Marketing and Advertising and the CMO and executive management team.
Review work, troubleshoot and provide feedback to creative teams
Manage and cultivate the career development of staff members
Manage all internal and external creative resources, agencies, and freelancers
Provide the creative team clear communication and motivation to produce high-level creative solutions
ABOUT YOU:
Bachelor's degree in art, graphic design, marketing, communications, journalism and other relevant fields
Master's Degree preferred
10 years of related experience with creative direction in external agency or internal agency setting
A minimum of 8 years of experience in both print and digital, particularly with, but not limited to web, social and emerging technologies
Experience creating marketing/advertising campaign concept development, vision and messaging
Past experience managing production deadlines and budget
Highly skilled at leading a team of creative talent
Outstanding communication, presentation, problem-solving and project-management skills
An in-depth knowledge of brand development and multichannel marketing models
Broad experience including brand identity, art direction, content strategy and development, video and audio production
Portfolio of work required