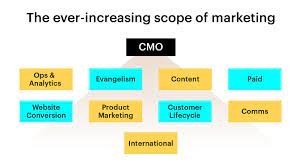 Chief Marketing Officer (CMO) Executive Search Firm
The CMO Role
The Chief Marketing Officer (CMO), sometimes titled Vice President of Marketing, is the top marketing function within an organization and a key member of the executive staff, reporting to either the CEO or the COO. The CMO plays a significant role in developing and implementing the company's long-term strategic plan, including new product opportunities, acquisitions/joint ventures, and other growth initiatives to meet the company's revenue and earnings targets. The CMO creates and executes a marketing plan that builds the company's brand, including developing consistent messaging across all programs, promotions, products and services. The CMO role is responsible for identifying, initiating, and leveraging partnerships to build awareness of the brand and drive company growth.  
The CMO develops segmentation and customer relationship models that identify targets and allow for customized marketing programs. This marketing executive is the visible voice and advocate for the end user within the organization. He or she directs the market research function to improve product development and new product introductions and guides the design effort, ensuring leading-edge, consumer driven products and designs that meet manufacturing and cost goals. Those in the CMO position manage outside agency resources effectively, including advertising, public relations and corporate communications efforts. CMOs are also increasingly responsible for managing vendors providing a vast array of marketing technologies.

What Capabilities Hiring Organizations and Executive Search Firms Look for in a CMO
CMOs must have strong business and financial acumen and the ability to link marketing strategy and results directly to overall business strategy and company financial goals.
They must have the ability to develop strategy from in-depth analysis of consumer and/or customer insights.  
Those looking for CMO jobs must have comprehensive program development skills, from advertising to direct mailing across all relevant marketing channels and platforms.  
Executive search consultants, also known as executive headhunters, want CMOs who have excellent influencing skills and are able to drive consensus. They must be able to see and articulate a future direction. 
A background as a marketing executive is a positive, but a prospective CMO must be adaptable to an environment that may not speak "marketing" as a primary language, and must have the ability to convey marketing strategies to many audiences within the organization.  
CMO job seekers must be willing to listen and lead.  
Search consultants and executive headhunters fill CMO jobs with those who are strong and visible leaders, who are resilient and flexible, yet demonstrate conviction in their ideas and programs. Such senior executive job seekers should be able to provide strategic marketing direction, and have the ability to direct brand, advertising and related specialties while managing budgets.
An executive search consultant or headhunter looks to fill a CMO position with a senior executive who has a history of successful brand management and equity building.  The candidate must have proven success driving results and delivering return on investment. To be a successful CMO, he or she must have a track record of new product development and demonstrated the ability to forge strategic alliances with key partners who can extend and build brand and company relevance. 
CMO Executive Search, Executive Marketing Recruitment, Executive Search Firm, Hiring, Marketing Executive Search